Week 30:
We had a wonderful week. We had lots of fun field trips and even daddy got to go on one with us. We continued working on our Lion/Africa unit study but have also started easing our way into our
Dr Seuss unit study
. We tried to participate in the
Great Backyard Bird Count
but due to some dreary weather we were unsuccessful and only identified one bird, a Morning Dove (aka Rain Dove). Saturday we attended a Dr Seuss event at a local mall. The event was FREE and the kids got to meet some Atlanta celebrities, The Cat in the Hat and The Lorax. They got lots of goodies, made some crafts, got to be part of a parade and listened to Dr Seuss stories. Later that night I had my very first moms night out with our homeschool group. I was out of the house from 7pm-12:30am by myself. It was AMAZING! Monday we focused on Presidents day. We read lots of books and did a few fun worksheets. Later we went to the library for story time. Tuesday we worked on the Lion/Africa lapbook and then went to a Rocks in my Backyard class at the library where the kids learned more about their rock collection. Wednesday we had an amazing time eating lunch with the
Ringling Bros & Barnum and Bailey Elephants
. The event was FREE of course. Daddy got to go with us and it was such an amazing field trip. It also went along great with our Africa and Dr Seuss units. Later Gwyn had her final American Girl
CurrClick
class on Felicity. We will now be moving onto another American Girl. Thursday we spent the morning cleaning up the house, kids did the dishes and I took care of mounds of laundry that needed to be folded and put away. Afterwards we headed to
Whole Foods
for a special Lorax story time (check your a location near you to see if they offer kid events). They had some very yummy snacks prepared for the kids and talked about simple ways the kids can help save trees. And best of all we got FREE tickets to see The Lorax on March 1st. Tomorrow we will probably finish up our Lion/Africa unit study and we have some fun stuff planned for Saturday which I will share next week. For instructions on the African drums we made this week click
here
.
FreeBEEs: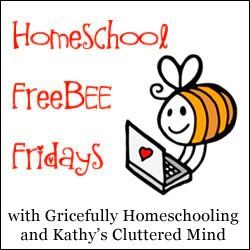 If you have homeschool FreeBEEs to share
please link up at the bottom of this post!
You can copy the button from my right side bar.

Internet FreeBEEs:
-
Math Worksheet
website
-
Mad Libs
online
-
We Do Listen
virtue/character songs
-
Living Water Bible Games
-
Story starter pattern
-Animal Human Society
Kindness Kit
-Lots of
Freebies
from Carson Dellosa including a FREE
whiteboard unit
-
Majesty Music
- Free songs from the Patch Club
-FREE
Lego Club Magazine
subscription
FreeBEE events:
Target
is hosting a Read Across America Dr Seuss Event Saturday Feb 25th from 9 am -11am.
Lakeshore Learning
is having a Dr Seuss Event on Saturday Feb 25th from 11am-3pm.
Check out
Kidgits Club
if you live near a Simon Mall. It is $5 per child for a year membership but they host all sorts of awesome events that are FREE throughout the year. Like the Dr Seuss and The Lorax one we attended.
Sign up FreeBEEs, items I will be reviewing soon and items I won:

1)
Symmetry Magazine
great science publication especially for older kids
2)
Make sure you pick up the Cheerio boxes with these
cool books
in them
,
and make sure you check the
website
frequently because they will be uploading activities at some point to go along with the books
3)
Our FREE Lorax screening passes
I am going to try to get a review up after we see it

Books and DVDs we checked out from the library:
-Too Many Cats by Lori Haskins Houran - Gwyn is really enjoying reading this book
-The Eraserheads by Kate Banks - someone recommended this book to me and it is super cute
-The Popcorn Dragon by Jane Thayer
-The Nine Lives of Dudley Dog by John and Ann Hassett
-Endangered Lion by Amanda Harman
-Grace for President by Kelly DiPucchio
-
New ideas have been added to my board. These are some of the things we are doing for our January units. Check out my other boards on Pinterest for ABC, 123, Art, etc ideas.
This is our February YouTube playlist keep checking back because I will be adding videos each week. It includes the various videos we will be using throughout February.
I hope you find these resources useful. If you ever have any questions feel free to leave me a comment or email me. Also be sure to follow my
FB page
where I post FreeBEEs daily.
*Disclaimer - Many of the links found on my side bars and in my blog posts are affiliate links. As a result, I might get paid money and I will most likely spend the money on homeschool supplies.