I am linking up over at
No Ordinary Moments
and sharing a few of our SPECIAL Christmas ornaments and their stories with you.
This year we are making ALL of the ornaments for our large (well not really large) family tree. We are doing the
Truth in the Tinsel Advent
ornament crafts plus adding others like snowmen out of cotton balls, pompom wreaths and candy canes, Menorahs out of popsicle sticks and crackers out of toilet paper rolls and tissue paper. We are having a blast and I personally think this is the best our tree has ever looked.
The kids have a small tree in their bedroom where all of our SPECIAL family ornaments are this year.
This is an ornament from my husbands childhood. I think it just adorable.
When we owned our home our next door neighbor would get each of the kids one of these ornaments every year. This one is my sons.
This ornament is to commemorate my husband and I's first Christmas as a married couple. The date is hard to read in the picture, it says 2000.
Each year my husband gets me a snowman. Sometimes its a stuffed snowman, sometimes a decoration and sometimes its and ornament (like these).
Each year we try to get the kids a Hallmark ornament. This is one of Gwyn's.
And this is one of Rowyn's Hallmark ornaments.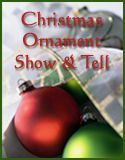 Thanks for stopping by I am glad I could share a little bit of our families traditions with you.