*This post may contain affiliate links. Please see my
Disclosure Page
for details.
Library and Educational Services
is a Michigan based family business that has been serving schools (including homeschools), churches, libraries, daycare centers, missionaries and resellers for over 35 years. All of the products they distribute, which includes CDs, DVDs and books, are carefully selected to ensure that they provide Christian values and morals to viewers. They also offer a large selection of evolution-free science resources for all ages.
A moms review:
We received two of the NEW Series 2 Go Science DVDs to review. After much debate my children (ages 7 and 8) finally decided on
Volume 3: Air and
Volume 4: Motion, Friction, Electricity, Light. This fabulous, informative science video series includes science experiments about physical and chemical science that point to the Creator of science, GOD. The motto, "every time we learn more about science, we learn more about our Creator, God!" is used consistently throughout the DVDs. This DVD series is geared toward children ages 4-12 years old and is a great science supplement for science loving and science loathing children.
The Go Science DVDs are hosted by the energetic and enthusiastic, Ben Roy. Ben is a science teacher at the University of Tennessee at Chattanooga and former director of a television science program. He has also created science lessons for the Weather Channel, About.com and Christian satellite broadcasting network. And it is with this expertise that Ben captivates, motivates and inspires children to get excited about science in his Go Science DVD series. There are 7 volumes with over 80 fun science experiments for kids. Ben definitely brings science to life through his fun, engaging science demonstrations.
Each DVD runs approximately 55 minutes and the science demonstrations are about 3-10 minutes long. Each DVD contains a main menu that shows the featured topics. You can either select "Play All" or you can click on each topic to open a sub-menu where you can select individual experiments. They are great for churches, homeschools, libraries, camps, etc. Many of the science experiments are ones that you can easily replicate at home, however there are some that are better left to the pros because the require specialized equipment or have safety concerns.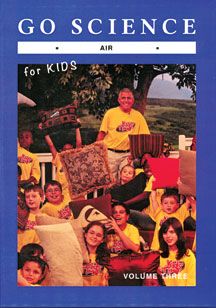 Volume 3 Air:
Volume 3 is 55:10 long and contains the following experiments....
Air 1:
Pop Can Cannon
Marshmallow with Vacuum
Hovercraft
Clinging Cards
Table Lift with Baggies
Is the Jar Full?
Air 2:
Bouncing Bubbles
Diver's Lungs
Fan with balloon and Beach Ball
Blow Up Big Bags/Race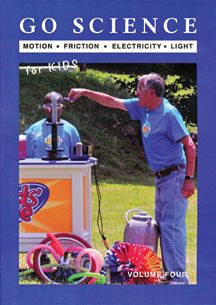 Volume 4 Motion, Friction, Electricity, Light:
Volume 4 is 55:03 long and contains the following experiments....
Motion:
Tablecloth Trick
High Bounce Balls
Marble Gravitron
Yo-Yo Big Spool
Bowling Ball
Friction:
Electricity:
Simple Motor
Nail Magnet
Jumping Rings
Light:
Food Coloring and Bubbles
How we used them and overall thoughts:
We watched the first DVD on "Air" the entire way through. The children complained a little bit saying they were bored and that they wanted to do the experiments along with him. However the DVDs don't provide material lists, many of the materials are not things most people have on hand and several of the experiments cannot really be done at home. There is also no step by step breakdown, so to perform an experiment at home you need to watch very closely and possibly a couple times. The children also tired of the repetitive motto at the end of each episode, "Every time we learn more about science, we learn more about our creator God!"
When we watched the second DVD on "Motion, Friction, Electricity, Light" we broke it up over the course of several days and it seemed to go a lot better. Because each segment can be played separately it was very easy to break it up over a couple weeks. There were also more experiments that could be done at home which satisfied the children's need for hands on learning. Breaking them up allowed the children more time to digest what they watched, perform an experiment or two as well as do further research. One of the experiments we all had a blast with was the "Marble Gravitron." It was a super easy experiment and we all had fun experimenting with different cup and marble sizes to see if it made a difference. We also had a family friendly competition to see who could keep the marble moving in the upside down cup the longest.
Two other complaints I have are that the film quality seems a little outdated and that there isn't much information provided on the how and why of the experiments. But overall we enjoyed the DVDs and there is definitely good supplemental science information provided in them. For the price you really cannot go wrong if you are looking for a way to enhance your current curriculum with more practical and hands on learning.
Demo:
Gwyn (8 yrs old) review:
I liked the DVDs I wish we could have done more experiments at home though. We did have fun with the marble and cup.
Links to follow:
-Library and

Educational

Services

Website (must create a FREE account to look around)
-Library and Educational Services Facebook
Where to buy:
Go Science DVDs
can be purchased for just
$8.97
each.