*This post may contain affiliate links. Please see my
Disclosure Page
for details.
Curiosity Quest
is an upbeat, family, educational program which explores topics that viewers are curious about. On each curiosity quest, host Joel Greene takes the audience on location for an unscripted, hands-on,
educational
experience. Curiosity Quest episodes are available on DVD as well as over 100 PBS stations throughout the country. These documentaries
have no grade levels
are great for families, homeschoolers, libraries, schools, etc.
A moms review:
I have two documentary loving children! Seriously, my 6 and 8 year old watch at least 2 documentaries a day. So when the
Curiosity Quest DVDs arrived they were pretty excited and couldn't wait to pop them into the DVD player. As a matter of fact we watched all six episodes in one day! We received the
DVD Combo Pack - Produce
and
DVD Combo Pack - Swimmers of the Sea
. Each of these combo packs has 3 episodes and each episode is 30 minutes long. These DVDs geared towards children ages 7-14, though younger and older children will definitely enjoy them too (I know I did and I am way older than 14).
Currently Curiosity Quest has 6 seasons and Curiosity Quest Goes Green has 4 seasons. These educational, factual documentaries cover topics such as animals, careers, the environment, recycling, vehicles, sports, food and more. Curiosity Quest DVDs can be purchased individually or through a
monthly membership
. For homeschoolers there are also annual and monthly homeschool membership options which include corresponding curriculum (follow up questions, projects and activities).
What are you curious about?
What to expect in each episode:
In each episode the engaging, funny host, Joel sets out on a quest to answer a question that has been sent in by a child. The documentaries are done in a hosted, participatory format. Your family will follow Joel on location where he investigates, experiences and learns first hand about the topic. There are no graphics or animations just real live footage.
First Joel introduces the viewer letters or videos that inspired the curiosity quest episode. Next he provides brief information on the location (city, state, etc) he is traveling too. Several times throughout the show Joel cuts to children, parents and experts to present fun facts or answer questions. Some of these questions include, "what do penguins eat" or "why don't penguins fly." After the children and parents provide their answers to the questions Joel asks the experts to answer. My children had a blast answering along and couldn't wait to see if they were correct, it was totally like a show of Jeopardy! There are lots of great vocab words introduced throughout the episodes as well, like preening, molting, husbandry, etc. Finally Joel encourages viewers to send in their letters or videos!
More episode details:
Here are more details about the two DVD Combo Packs we received.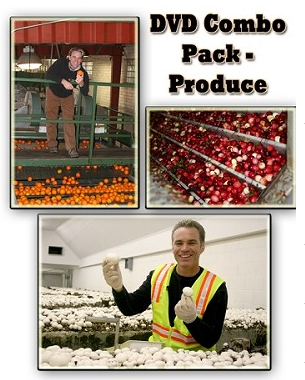 DVD Combo Pack - Produce -
(Mushrooms, Cranberries, Orange Packing)
Mushrooms:
In this episode Joel answers the question about how mushrooms are grown. Not the mushrooms in the woods, but the ones we buy at the grocery store and eat. Joel visits the largest commercial mushroom grower in Watsonville, CA to get the answer. Viewers will learn about what mushrooms are and the process that is used to make commercial mushrooms. Joel takes viewers step by step through the growing, picking and packaging process.
Cranberries:
Do you love cranberries? I do. In this episode you will travel with Joel to Wisconsin to learn about harvesting cranberries! Joel battles flooded cranberry fields and cold weather to help viewers learn more about cranberries, cranberry bogs and more!
Oranges:
Joel takes viewers to Dinuba, CA to a commercial orange grove to learn how oranges are harvested. Viewers will learn about the various types of oranges and how they are grown, harvested, sorted and packaged.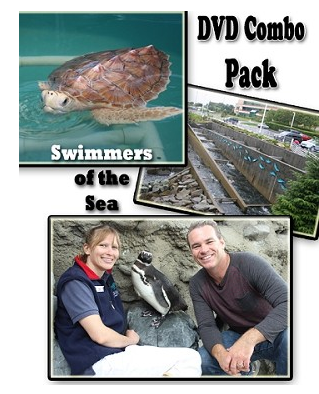 DVD Combo Pack - Swimmers of the Sea -
(Sea Turtle Rescue, Penguins, Salmon)

Sea Turtle Rescue
Are you curious about how fast a sea turtle can swim? Did you know that many species of sea turtles are in danger of becoming extinct? Join Joel at the Sea Turtle hospital in Marathon, FL where you will find the answers to these questions and many more. Learn about the important work being done by the dedicated sea turtle hospital staff who rescue, rehabilitate and release sea turtles everyday.
Salmon
In this episode Joel visits Sheep Creek in Juneau, AL to learn about how salmon are maintained and protected. While at the salmon hatchery viewers will learn about the process of rehabilitating salmon, why salmon swim up stream, the 5 different types of salmon (sockeye, king, pink, silver, chum) and more.
Penguins
In this episode viewers visit The Aquarium of the Pacific in Long Beach, CA to learn about penguins. Topics such as what they eat and how and where they live are discussed in this up close and personal episode. You will also learn that penguins have 100 feathers per square inch!
Documentary printable:
To compliment these fantastic DVDs I created this
documentary journal page
. This journal page is great for any documentary including Curiosity Quest. Get yours
here
for FREE.
Gwyn (8 yrs old) and Rowyn's (6 yrs old) review:
Gwyn, "I liked all the episodes, I cannot pick just one. I learned a lot about penguins. The guy that does the show is really funny!"
Rowyn, "The DVDs are good. My favorite one was episode was the mushroom one."
Links to follow:
-Curiosity Quest
Website
-
Curiosity Quest
Facebook
-Curiosity Quest
Twitter
-Curiosity Quest
YouTube
Where to buy:
Click here for more Curiosity Quest
reviews from the
The Schoolhouse Review Crew
.