*This post may contain affiliate links. Please see my
Disclosure Page
for details.
Science4Us.com
is yet another fabulous website developed by John Edelson founder and president of the very well know VocabularySpellingCity.com website. Science4Us.com is a digitally-delivered K-2nd science curriculum that was launched in April 2013, after three years of development and countless trials. Science4Us.com is based on NGSS, the Next Generation Science Standards, developed by Achieve for the National Research Council.
A moms review:
We received a 6 month
Science4Us.com Online Subscription to review. For the past several weeks my children ages 6 and 8 have had a tremendous amount of fun with this interactive, engaging, multi-sensory online science curriculum. They literally beg to get onto Science4Us.com and will stay on for hours if I let them. Four to five times a week each child has been working independently and accessing their individual lesson assignments on Science4Us.com.
Program Overview:
Science4Us.com
is a complete science curriculum that also incorporates cross-curricular activities such as math and language arts. The program is
very
flexible and offers something for every homeschool style and family lifestyle. The curriculum doesn't have to be completed in any particular order which worked great for our unschool family. The children would simply choose the topic they were interested in learning about and I would set up their lesson assignments.
Science4US.com topics include:
Physical science – Matter, Energy, Force and Motion
Life science – Living Things, Balance In Nature
Earth/Space Science – Earth, Space
Inquiry – Science Skills
Within each topic there are various modules and there are 28 modules in total on Science4Us.com. Each module contains 8 sessions and a session takes roughly 30-35 minutes to complete. The recommendation from Science4Us.com is to have your child complete a module over a 2 week period. However my children enjoyed the program so much that they would often complete one module in 1-2 days.
The 8 sessions in the modules include the following activities:
Engage
Explore
Explain
Elaborate (activities vary)
Elaborate (activities vary)
Elaborate (activities vary)
Investigate
Evaluate
Some sessions may contain more than one activity. Activities can really be done in any order with the exception of the "Evaluate" session which is basically the module exam. Some of the activities include interactive videos, matching, alphabetizing, note taking, graphing and more!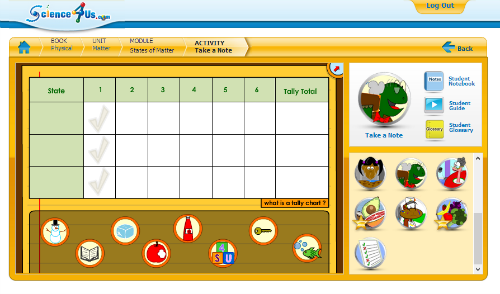 For each session there are additional resources in the parent portal including teacher support, offline materials, professional development, vocabulary words, etc. The offline materials are fabulous for enhancing and reinforcing what your child has learned in each session. There are investigative science worksheets, hands on project ideas and much more for each grade level K-2nd.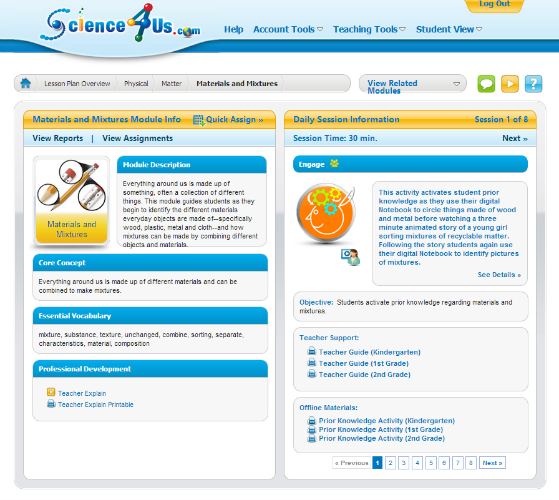 Student Portal:
The student portal is very easy to navigate and both of my children were able to do so on their own almost immediately. The most difficult feature for them to navigate on their own the first time was the notebook feature, but they caught on quickly. All of the instructions for the activities are verbal and they can easily be replayed if they need to be heard again. The student portal is very organized and features bright colors, cute animations and fun graphics.
There are two screens your child will need to navigate the first is the main log in screen. In the middle is their recent activity. As a child completes an interactive activity they receive a star on the circular activity graphic so they know what they have completed. To the right of the recent activity box they will see a music player that plays fun sciency songs, which my children loved. To the left of recent activity box children can view notes, a glossary, assignment details, reports and watch mini explain videos. If children want to explore on their own they can select a book of science from the top right and choose their module. For the remaining time on our subscription I think this is how I am going to let the children access the program, because it fits our homeschool family lifestyle a little better.
Once a child is in an activity they will be able to easily navigate to the next session by clicking on the circular activity graphic to the right. Again completed activities will have stars. They can also quickly access their notebook, glossary and student guide on the top right. There is a little red arrow in the top right corner of each activity if a child wishes to expand the activity full screen.
One important note is that you DO NEED to finish a session once you start it because your place will not be saved. Be sure your children are aware of this or they will get very disappointed if they loose their work.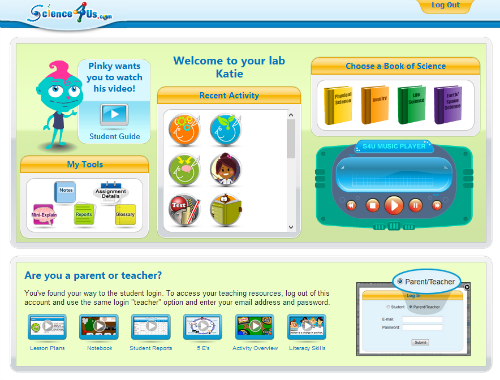 Parent Portal:
The parent/teacher portal is also very easy to navigate. I mentioned above all of the additional resources that are available for parents so that they can still be involved in their child's learning and help with reinforcing, enhancing and evaluating what the child learned from the online lessons. From the portal you can also set up your child's assignments and view reports. You can also view all of your child's notes and the answers to questions. To help you get the most out of the curriculum there are
webinars, lots of
videos
as well as teaching strategies to help guide you.
Wrap up:
This program is great for school, after school and homeschool use. It can be adapted to fit any homeschool style and it can be utilized as a supplemental or full curriculum. Science4Us.com offers affordability, flexibility and most importantly learning fun. It is multi-sensory and great for all learning styles (auditory, visual and kinesthetic). As a family that really enjoys science and spends more time learning about science than any other subject, I can say without a doubt that
Science4Us.com
is a top quality curriculum and one that I highly recommend. Science4Us.com will spark an interest in science in your child and have them begging for more. You may even find them trying to reenact a science experiment that was shown in a lesson. Yup this totally happened. I found water, syrup and a few other liquids being dripped onto a table so they could measure how far they traveled.
Gwyns review (8 yrs old) and Rowyns review (6 1/2 yrs old):
Gwyn, "This is my favorite science curriculum. It is fun and I learn a lot. The videos are fun and sometimes silly."
Rowyn, "I like the science stuff a lot. It is funny and silly. I want to learn science everyday."

Links to follow:
-Science4Us.com
Website
-
Science4Us.com
Facebook
-
Science4Us.com
Twitter
-Science4Us.com
Pinterest
-Science4Us.com
Google+
Click here for more Science4Us.com
reviews from the
The Schoolhouse Review Crew
.