*This post contains affiliate links. Please see my
Disclosure Page
for details.
Friends and Heroes
is a UK produced animated adventure series for children featuring Bible stories. The animation team is award-winning with major credits on films like Star Wars The Empire Strikes Back and the Miracle Maker. Friends and Heroes is broadcasted on several independent stations in the USA and on many other broadcast outlets internationally.
"Like our heroes, children will be empowered by what they see and hear, as they share the courage and compassion, the everyday dangers faced by Macky and his friends."

A moms review:
We really enjoyed reviewing the
Friends and Heroes Unit Study 1 Homeschool Curriculum
. The curriculum comes with two disks. One disk contains the 2 video lessons and the other contains the unit study materials (more info on each below). The curriculum is recommended for children ages 7-11. I utilized it with my 6 and 7 year old. They loved the DVDs and were able to comprehend and complete the majority of the curriculum (with adult assistance).
Long Journey DVD:
The
Friends and Heroes Episode 1 DVD
contains 2 Bible stories: Daniel and the Lions Den and The Miraculous Catch. The total running time for the DVD is 25 minutes, so it is perfect for wiggly, distracted children and a DVD you can easily watch once a week. Children will learn the importance of being courageous and helping others through the retelling of these fun Bible stories. Travel back in time to through the Old and New Testament with the fun, beautifully animated characters and visit ancient Egypt, Israel and Rome right from your sofa.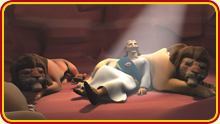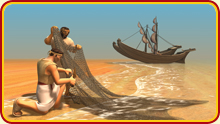 Friends and Heroes are computer, animated tales that follow two friends Macky and Portia on adventures throughout ancient times. Their adventures bring to life well known Bible stories as they fight for justice and even survival against the Roman Empire. In the Long Journey, Macky and his family risk everything by taking in to refugee girls. I loved the story within a story approach!
The DVD also includes 4 full length curriculum lessons including: Daniel and the Lions Den, The Miraculous Catch, The Fall of Jericho and Jesus Feeds 5,000. And a music video, scene selection, Spanish subtitles and previews. The curriculum lessons on the DVD are about 5 pages in length and include a Bible game, adventure, craft, application and prayer.
Homeschool Unit Study 1 CD-ROM:
The
Friends and Heroes CD-ROM
contains a fun, exciting cross-curricular Homeschool Unit Study based off of the material contained in the Long Journey DVD. The material is easy-to-use, very hands-on, colorful and fun. Just pop the disk in and print!
There is a teachers guide and student manual as well as certificates and journal pages provided on the disk. Everything is printable (over 50 pages) and reusable so it is perfect for family's with multiple children. To save paper and ink I only printed the worksheets, journaling pages and maps and not the reading material from the student manual. Also rather than printing the teachers guide I just read it on the computer. All of the included materials are adaptable and can easily be adjusted to fit your family's needs. There is approximately 3 weeks worth of learning covering history, geography, creative writing, bible study, science, crafts and discipleship. In addition there are also weblinks to additional website support material for children who wish to delve in deeper. The website includes puzzles, quizzes and games plus further information about Bible characters, Bible places and Friends and Heroes characters and storylines. The unit study can easily be self-guided for older children, however younger children may require adult assistance.
History/Geography: The Romans; Roman trade; Roman money; Roman import and exports

Creative writing: journal writing; written expression and narration; copy writing

Bible study: Daniel and the lions' den and Jesus and the miraculous catch of fish; the early Church

Science: silver; sand and cement; Greek and Roman discoveries

Crafts: Sculpture; paper weaving; pottery

Discipleship: trusting others; pride; worries
It is a great curriculum for all learning styles! There is something for everyone! Some of our favorite items were the mapping exercises, creative writing, drawing, science experiments and crafts!
Long Journey clip on YouTube:
Gwyn's (age 7) review:
Gwyn, "I liked the characters they were really neat and the girls were pretty. I liked making the crafts and the worksheets, especially the drawing ones were lots of fun."

Links to follow:
-Friends and Heroes
Website
-Friends and Heroes
Facebook
Where to buy:
You can purchase Friends and Heroes DVDs and curriculum directly off their website. The Homeschool Unit Study 1 Pack (DVD and CD-ROM) is $29.99. If you already own the DVD there are options for purchasing or downloading just the unit study curriculum. Be sure to also check out the school and church curriculum as well as all of the other DVDs available.
Through January 31st take advantage of these

special offers

:
20% off all

Friends

and

Heroes

Homeschool Resources
10% off all other

Friends

and

Heroes

resources with curriculum
10% off all

Friends

and

Heroes

Home and Family DVD Collections
Now time for the giveaway:
Friends and Heroes has graciously offered to giveaway a Homeschool Unit Study 1 set one lucky reader. Only the first entry is mandatory. Other entries are optional and give you extra chances. This giveaway is not affiliated with Facebook in any way. The winner will be posted on the blog and will be emailed. Winner must reply within 24 hrs with their contact information or another winner will be chosen. Open to US and Canada only! Prize will be mailed via the company.

Please wait a moment for Rafflecopter to load.....
a Rafflecopter giveaway