*This post contains affiliate links. Please see my
Disclosure Page
for details.
Follow my blog with Bloglovin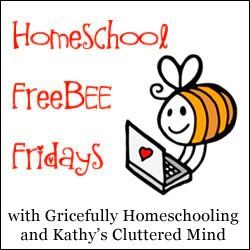 Welcome to FreeBEE Friday. Well this is the final FreeBEE for the year! We hope you enjoyed all of the amazing FreeBEEs that Jen, from
Gricefully Homeschooling
,
and I shared in 2013. And special thanks to all of the amazing companies and bloggers that provided us with those fantastic FreeBEEs.
Last Friday we posted our
Homeschool FreeBEE Friday
Link Up
, so our favorite bloggers could link up their FreeBEE posts! This link up will be open through the rest of the month. Be sure to read the note at the top of that post regarding how FreeBEE Fridays will be changing in 2014.
**SPECIAL HOMESCHOOL FREEBEE**


Claiming your 2 FreeBEE's this week from Teach Your Tree is very simple just click the link or photo's below
and fill out the email

subscription

form
.
**Important: You have my permission to post or share a link to *this blog post*, ONLY! You do not have permission to share the direct link to the free item. Thank you for your cooperation!**
This special homeschool
FreeBEE
was offered to
Kathys Cluttered Mind
to share with my readers, thanks to Teach Your Tree
.
I took a quick peak at this eBook and must say it looks pretty amazing. I cannot wait to dig into it some more with the kids. Plus it follows my favorite homeschool approach delight-directed!
This eBook discusses:
Foundational Skills: Historical Context, Critical Thinking, Research Skills
Social Studies: Time Lines, Family Foundations, Current Events, Geography
Areas of Expression: Creative Writing, Art, Creative Unit Studies
Also included are tips and tricks for fun field trips, projects with Grandma and Grandpa, and more! Even if you aren't a homeschooling parent you'll find something fun and intriguing about sharing your family history with your kids. This quick guide will help!
I don't really know a whole lot about my family history but would love to learn more. I have always been fascinated with history and so have my children. One person in our family we will definitely be investing more is my Great, Great Aunt, Mary Ellen Martini. I actually have her original diary/autobiography that she was writing. My dream is to someday get it published into a short book. I was lucky enough to actually have her be part of my life as a young child. She died at the age of 102 on June 16, 1988, on my 7th birthday. She was an amazing woman and accomplished so much in her life. She worked for Ma Bell, was a "hello girl" in WW1 and volunteered with many organizations. She was a kind woman, who loved to help others and loved to learn new things. I own many of her treasures such as postcards, article and poetry clippings, jewelry boxes, bus tokens and framed pictures including two that her friend drew for her.
Here are some pictures of the scrapbook I am working on as well as some of my treasures from my Aunt.
That little girl in the red dress that's me!
I will see you in the New Year with more great FreeBEE posts!