*This post contains affiliate links. Please see my
Disclosure Page
for details.
In 2011 we began we began our homeschool journey. I had no idea what I was getting myself into. I quit my full-time job as an administrative assistant at a Real Estate school to become a full-time homemaker, homeschool mom and blogger. Homeschooling has been a huge blessing and we are so very thankful we made the decision to homeschool our children. But boy is it the
toughest
job I've ever had!
I would be lying if I said that every day is amazing! We have our ups and downs and sometimes I feel like there are more downs. But I know we made the right choice for our family and our children love being at home and love learning! I am thankful that we live in a country where we have the freedom to choose homeschooling for our children!
Here are a few reasons why I am thankful we homeschool:
I love experiencing the look on my children's faces when they learn something new. I missed way too much of their early years when I was working full time!
My children can learn at their own pace. They can also learn via their preferred learning style. They don't need to fit into a box or conform.
My children can learn about what interests them most. They don't have to worry about learning things to just pass a test!
We get to take lots of field trips...hands on learning is the BEST!
My children are learning more than just history, science, reading and math. They are learning life skills, enjoying the arts, building important character qualities and learning about religion and faith. Things our public schools no longer teach! And most importantly they are developing a love for learning!
We can sit and read all day long!
Here are a few tips to help you keep calm and stay some what sane on the tough days:
Relax and take a break. It is really okay if you don't get to every subject or everything on your list done every day!
Pray or reach out to a friend, family or your spouse. It is okay to ask for help when you need it and seek some advice!
Don't over commit. This is one area I really struggle with and need to work on. Many days I am pulling my hair out and stressed because I have too much on my plate.
Don't compare. Another one of my not so good areas. I speak all the time about not comparing children because I know first hand how devastating it can be to a child. Yet I find myself comparing not only my children but myself to others on a daily basis.
Get away. Yes we moms need a break. Take an evening or a weekend to get away. Go out window shopping or to dinner either alone or with some friends you will be glad you did!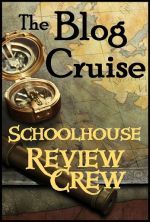 Click here to read more "Being Thankful" posts from Schoolhouse Review Crew!
Be sure to browse through all of our other
Top 10 Posts!
Linking up with:
Top Ten Tuesday