*This post contains affiliate links. Please see my
Disclosure Page
for details.

God's World News
has been publishing age-appropriate magazines for children for over 30 years. Their mission is to provide news and interesting information for children which is biblical, appropriate, and vibrant! Their hope is that every children will grow in their understanding that God has the whole world in His hands. There are six levels to choose from Pre-K through highschool. Each version touches on core subjects to help students develop critical thinking they need to make sound life decisions. Each magazine contains economic, scientific, religious, historical and world event material. It's all current "real world" information, prepared with your family in mind. And best of all the current events are presented to children using a biblical worldview.
A moms review:
We received a one year subscription to the
Early Edition
which is geared towards children in grades 1st - 2nd. It was perfect for both of my children who are 6 and 7 years old. I have always encouraged our children to be interested in current events and we try to incorporate various things occurring in the world into our homeschool lessons just about every month.
I recently read an article on PBS.org that said, "Students also need an understanding of the world's economy, politics, social structures and environment in order to make the best decisions about how to live their own lives. More than ever, an appreciation for news and our civic institutions is a key step toward self-empowerment and advancement." I couldn't agree more!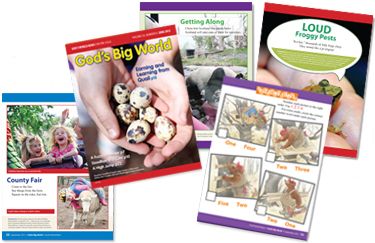 Over the last few weeks the children have been choosing articles out of the August, September and October issues to read at breakfast time. Each child would choose one article which I would read. Then we would discuss the article, utilize the many resources provided by God's World News and fill out this
journal worksheet
that I created. The worksheet was very helpful for reinforcing everything we learned in the article plus it also added handwriting, drawing and additional mapping elements as well. Download your FREE copy
here
. I created it to go along with the God's World News magazines however it can be used with any current event material (articles from TV, radio, newspaper, internet, etc)!
God's World News
magazines are filled with all sorts of amazing articles. My children were
immediately
intrigued as they
flipped
through the pages, and so was I. There are 24 pages in each Early Edition. The text is nice and large and there are lots of colorful pictures. T
he articles are short and to the point and e
ach article generally takes less than 5 minutes to read, so there's no need to worry about children becoming bored and distracted. At the bottom of many of the
articles are additional teaching tips to assist parents
with further discussion about the topic. Sometimes there are even links to websites where you can learn more about the topic and watch videos. Throughout the magazine you will also find Puzzling Times. These are fun puzzles to build critical thinking skills. Puzzles include matching, sequencing, number/letter recognition, mapping and more. My son had a blast with these. On many of the article pages you will also find a Map-It compass
which corresponds with the full-sized (20" x 30") world map that is received at the beginning of the year (September). There is also an awesome FREE digital version of the map which you can make direct edits on in a pdf writer program. This worked great on my tablet! The Map-It compass provides children with the city/country coordinates so that they can find the exact location on their locator map. There are also facts about the the city/country as well. Scriptures are mentioned in many of the articles and there are also Bible2Life sections on several articles as well.
Bible2Life sections provide parents with a great way to further discuss the articles from a biblical perspective. These magazines offer something for everyone and are a perfect fit for all learning styles!
The magazines can actually be used your primary social studies curriculum or used in conjunction with your current curriculum. Gods World News totally has you covered and offers several great resources on their website (some can only be accessed with your membership others are FREE for everyone). There are

lessons (which correspond with various articles in the magazines, biographies

,

explain it

,

today in history

and more. These resources are all fabulous and really helped enhanced our learning. My history loving daughter loved the biographies and today in history!
And if that wasn't enough

God's World News just finished another great website called kids.wng.org

which is where you can go to view the current month magazine

digitally!

This website is a safe place that allows all of the current month magazine articles as well as the puzzles to be viewed on the go, which is great for busy homeschool families. The articles are broken down into the following categories: MySci (science), Creation (nature), TimeMachine (history), PeopleandPlaces (cultural, etc.), KnowMe (biographies) and FunStuff (spot the difference, mapping etc.). It is a very well done site and very easy to navigate. With the new World Member Program you have access to World Magazine, exclusive World web content, God's World News Magazine (all levels), "The World and Everything In It" Podcasts, email updates and more. World News even allows you to share articles, podcasts, political cartoons and more directly to Facebook, Twitter and other social media sites with non-members (they temporarily receive access to the site). Or if you would prefer you can also text, email or post links on blogs as well.
Check it out for yourself (for kids and teen levels you can only view teasers).
The God's World News email newsletter is another amazing, time-saving tool for you as well. The newsletter provides you with links to downloadable answer keys, biographies and topical lessons on the websites, digital magazine editions, and more. But even if you don't sign up for the newsletter you can always still access the materials on the website.
With a subscription you receive:
Full-year subscription includes 10 big, full-color, monthly issues (every month except December & May). Including digital access and access to answer keys, lessons, etc.
kids.wng.org access.
School-year subscriptions include seven monthly issues (September - April).
24 pages per issue, filled with age-appropriate news and activities.
No charge for regular shipping and handling! (1st class delivery available at additional charge.)
MAP-IT! Locator maps correspond with a full-sized (20" x 30") world map sent at the beginning of the school year to each class, homeschool teacher, and homeschool group coordinator (five maps sent to homeschool groups).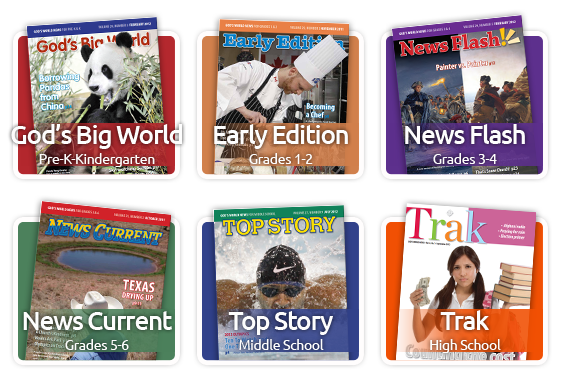 Freebies:
-Check out a FREE sample PDF issue
here
(right hand side).
-FREE
Current Events Journal Page
, this worksheet can be used with any current event!
-Some FREE
explain it
,
today in history
and more.
-
FREE digital version of the map
Gwyn review (7 yrs old) and Rowyns review (6 yrs old):
Gwyn, "I like reading the magazines. My favorite article was about the Chincoeague wild ponies! Every year they swim from the island of Assateague to the shore of Virginia. This year they got caught in a bad storm. I also liked finding the places where the articles happened on our big map."
Rowyn, "The articles and pictures are neat. I like the games also. I learned lots of cool science things."
Links to follow:
-God's World News
Website
-God's World News
Facebook page
-
God's World News
Twitter
Where to buy:
You can subscribe to God's World News
here
. The price is $28.00 for a 10 month subscription. No magazines are delivered in May and December. Due to some recent site and product upgrades we have also had the
privileged
of checking out the WORLD Member Program. If you are looking for quality up to date current events to discuss with your children I highly suggest checking out all that this program has to offer as well. The digital membership program is $23.88 a year or $1.99 a month.
Click
here
for more God's World News reviews (there are several grade level reviews)
from the
The Schoolhouse Review Crew
.