*This post contains affiliate links. Please see my Disclosure Page for details.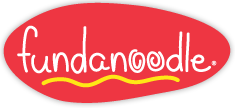 The first module of Fundanoodle was developed in partnership with Amy Bumgarner and Michelle Yoder both pediatric occupational therapists with more than 20 years of combined experience. Fundanoodle products include writing tablets, multi-activity sets and activity tablets which are all designed to make learning fun and interactive.
Fundanoodle is great for parents, teachers and kids!
A moms review:
We received two great items from the
Green (K to 1st)
Fundanoodle
learning system to review. This was perfect because my 6 year old son was able to use one product and my 7 year old daughter was able to review the other. My son worked on the I Can Write Lowercase Letters and my daughter worked on I Can Write My Own Stories.
Fundanoodle was a great product for both of my children. The learning systems are lots of fun and help improve skills needed for handwriting as well as other everyday activities. Each product by Fundanoodle helps in the following 4 areas: Muscle Movers, Visual Motor, Sensory and Brain Builders. The learning systems are the perfect fit for every learning style and a great supplement to any curriculum. For our busy on the go family they were perfect for learning on the go. They are easy to transport and only require a pencil and some crayons.
The tablets are spiral bound, which makes flipping the pages and keeping the book open to the current activity a breeze. The back of the tablet is made out of stiff cardboardand makes the perfect writing surface if you are not sitting at a table. The tablets are each 12 x 9 so the font and writing spaces for each activity are perfect for beginner readers and writers. The paper quality is also fantastic. In the back of each book are reward sticker pages which the children loved. Each time they completed a page they waited anxiously for their sticker. And most importantly they are very affordable! Each tablet also features the Fundanoodle mascots
Max and Alphie
. Both of my children adored Max and Alphie. Max and Alphie do a great job of guiding children on fun learning adventures.
Each child worked through their book a few times a week at their own pace. Below I have a break down of each book with further details and my children's thoughts.
I Can Write Lowercase Letters:
Rowyn my 6 year old hates writing...actually both of my children hate writing but Rowyn really hates it. I have the hardest time getting him to practice his letters and his name, well I did until Fundanoodle arrive.
Rowyn went bananas over Max...probably because bananas are something they both LOVE. He grabbed the book when it arrived and started writing. And thanks to this writing tablet he can now write his "w" correctly.
The book has 52 pages and the letters are sequenced according to a child's visual and motor skill development. I think this is one thing that made it great for Rowyn, since he has some motor skill issues. In the front of the book are tips for parents and simple instructions about the page layouts that you can go over with your child. Each page is super simple and has the same layout.
In the top left corner of each page children get a nice bold visual of the letter they are learning to write. There is also a cute graphic of an easily recognizable object that begins with that letter. Over to the right of the page Max provides children with simple instructions for forming the letter (no more than 3 steps). Next children practice writing the letter in a blank box. Then they move onto writing the letter in a box with a top, median and bottom line. And lastly they write the letter on lines (top, median and bottom) without the box. At the end Alphie congratulates them and there is a special spot for their reward sticker.
Example page:
Because of the sequence of the letters I had my son go in order to get the most benefit from the writing tablet. The tablet really helped his motor skills, pencil control and eye hand coordination. It also helped him with learning to align letters and stay within boundaries.
In the back of the book there are additional practice pages utilizing blank boxes, lined boxes and writing lines.
I Can Write My Own Stories:
Gwyn my 7 year old also does not enjoy writing. She can write very well she just doesn't care to do it. But the pages in the writing activity book were so much fun she didn't even realize she was writing. She would actually do more than one activity a day!!! The I Can Write My Own Stories book contains 50 activity sheets.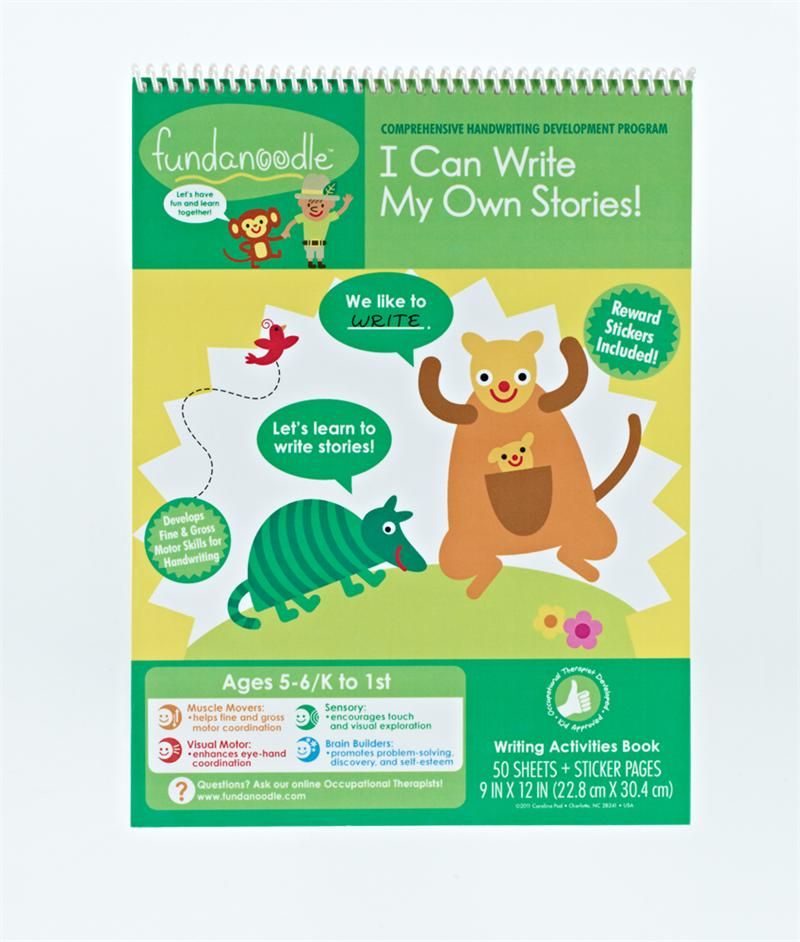 I would let Gwyn choose which activities she wanted to do each day. She not only got to practice her handwriting and writing concepts but she also learned creative writing, creative thinking, sentence completion, story sequencing and more. There are a variety of activities including writing, listening, labeling, drawing and fill in the blank. Each activity is very different and includes very easy to understand instructions. At the bottom right corner of each page is a spot to put a reward sticker. Gwyn also loved that the pictures on the pages were black and white so she could color them in a she wished.
Additional Resources:
-
Tips and Activities
-
Downloadable practice pages
for each book (must enter UPC)
-More
fun stuff
Gwyn review (7 yrs old) and Rowyns Review (6 yrs old):
Gwyn, "I like my book a lot. I am having fun writing my own stories"
Rowyn, "I am liking writing my letters. The monkey is cute. I can write a w now!"