*This post contains affiliate links. Please see my
Disclosure Page
for details.
Barbour Publishing
is an Ohio based company that has been distributing and publishing Christian books since 1981. Each year they release over 150 new books. Barbour has shipped over one hundred million books to families and retailers around the globe.
From the Barbour website - When the company's unit sales reached fourteen million in a fiscal year, Martins commented, "I'm really excited about that figure. That's fourteen million Christian books - not fourteen million hamburgers, or fourteen million cars, or fourteen million computers.
It's fourteen million books sharing the message of Christ!
"
A moms review:
Do your children think that they live in the most boring place ever? Do your children often daydream about the big, important, amazing adventures they will have when they grow up? Then your children are going to fall in love with E.J (Emma Jean Payne) in
Diary of a Real Payne Book 1: True Story
.
Diary of a Real Payne is a 192 page glossy covered, paperback book. The author
Annie Tipton
has been writing stories since she was 2. Yes 2! Well she didn't write her story at 2 but she did tell it to her mom and asked her to write it for her. Annie has a passion for writing and really wanted to write a children's series and so Diary of a Real Payne: True Story was born. On a Author Spotlight here is the reason Annie gives for wanting to write a children's series, "
Because I am simply a kid at heart! Some of the first chapter books I read as a kid left a lasting impression on me, so I know firsthand the power that memorable characters and stories can have.
"
The book is recommended for children ages 8-12. There is something for both boys and girls in the book. Girls will be able to relate to E.J and boys will be able to relate to E.J's little brother Isaac "The Space Invader." We utilized the book as a read aloud. Both my 7 year old daughter and 6 year old son enjoyed the book. This is a definitely book that parents will have a blast reading. Warning you will occasionally catch yourself reading in expressive, silly voices which will make your children giggle even louder.
The book is written in a very unique style and combines first person diary entries (epistolary) and narrative fiction. My children loved the style and it kept them very intrigued. The diary entries and parts where E.J goes on a day dreaming adventure where their favorite parts. There are only a few black and white illustrations throughout the book. There is an illustration at the beginning of each chapters which shows you some of E.J's antics that will take place in the chapter. There are also few doodles on the diary entries.
We read a lot of books (like 8-10 a day) but this has got to be the first chapter book that made my children laugh hysterically. It was also a book that my bid dreamers could identify with. Gwyn connected with E.J from the beginning when E.J describe her little brother in her first diary entry.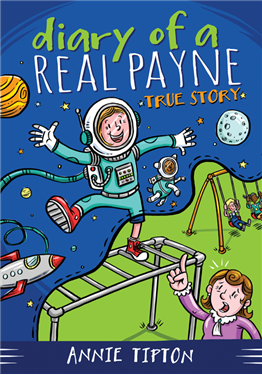 More about the book:
Follow E.J a very clever 10 year old girl on her misunderstood adventures in the boring town of Little Spooner Wisconsin. Little Spooner NEVER has anything exciting happen. It is home to the world's largest muskie hatchery, railroad woodcarving museums, and Spooner Rodeo. So E.J dreams up her own adventures (which often land her in trouble) and dreams of the day when she is all grown up and can leave Little Spooner.
The book starts with EJ's first diary entry where she introduces you to her town, family and hobbies. Each chapter starts with diary entry which is a lead way into what will be occurring in the chapter. Anytime E.J is whisked away into a day dream the text will change to italics. The book ends with final diary entry (but I have a feeling it's not E.J's last).
E.J's parents (mother is a school teacher and father is a pastor) reminder her often that even though life doesn't seem very interesting at the moment that God has big plans for her, ones even better than her amazing imagination can dream up. And that sometimes it is important to be aware of what's actually going on around you otherwise life will completely pass you by. Some of E.Js adventures include being a professional woman race car driver, ruling a Kingdom as Queen E.J, becoming a space cadet, participating in the Payne-fully Spectacular Circus, opening the Super Stylz Salon, as well as channeling characters of her favorite books like Anne of Green Gables. I loved how each diary entry was signed a fun, unique way!
In chapter 3 schools starts and E.J is faced with new troubles besides her boring town including a new teacher Miss "Picky" and a not so nice girl named CoraLee. Everything starts going very badly for E.J and nothing seems to be going as planned. She comes in 2nd place in the school spelling bee, has a neighbor get snippy with her when she asks if he wants to make a canned food donation and doesn't get the part she had dreamed of getting in the Vine Street Community Church Christmas pageant.
But by the time the holidays come around, EJ learns how blessed she is to have an amazing, loving family. She also learns several spiritually based life lessons like helping others in need (even people you may not be too found of). The book does a great job of teaching children about love and service from a biblical view point.
In the end E.J learns that "big things," a
nd "big miracles" do happen
right where you are, even in the small town of, Little Spooner. I would like to issue a "
Mascara Warning"
for the last couple of chapters of the book.
Final notes:
Thanksgiving and Christmas are right around the corner and this is the perfect book for your family to read together. Your family will certainly be in the holiday spirit after reading about E.J and will be ready to help make a "BIG" difference in their boring town!
"I have big plans for you, E.J. Trust and follow Me, and we'll do amazing things together. Love, God"
Freebies:
-Read a chapter here and fall in love for yourself.
Gwyn review (7 yrs old) and Rowyns review (6 yrs old):
Gwyn, "I liked reading the book about E.J. She is a funny girl who likes to dream. She learns about helping others."
Rowyn, "It's a funny book. It made mommy cry. I liked the little brother the best."
Links to follow: