*This post contains affiliate links. Please see my
Disclosure Page
for details.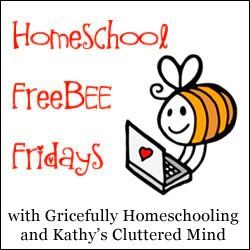 Welcome to FreeBEE Friday. Jen, from
Gricefully Homeschooling
,
and I have lined up some great FreeBEEs for you in 2013. The second Friday of every month we will be providing a link and if necessary a savings code for you to get a
FREE
product from some of our favorite homeschool companies. These great sponsors are offering these *Limited Time FreeBEEs* which will include lapbooks, unit studies, online classes, and more to bless homeschool families! Last Friday we posted our
Homeschool FreeBEE Friday
Link Up
. So our favorite bloggers could link up their FreeBEE posts! This link up will be open through the rest of the month...so instead of a weekly meme this will be monthly, now.
**SPECIAL HOMESCHOOL FREEBEE**
Claiming your FreeBEE this week is very simple just visit
Little Learning Lovies
and add the Alpha-Bees Alphabet Sort Game to your shopping cart. Next enter the coupon code "
AlphaFree
" to claim your FreeBEE. This code is valid until July
22nd.
In this super fun "Boxable" game where children will sort the letters into Upper / Lowercase.
Be sure to also head over to
Gricefully Homeschooling
to snag your Space Pigs
Number Families download.
**

FREE -
Alpha-Bees Alphabet Sort Game
**
**Important: You have my permission to post or share a link to *this blog post*, ONLY! You do not have permission to share the direct link to the free item. Thank you for your cooperation!**
This special homeschool
FreeBEE
was offered to
Kathys Cluttered Mind
to share with our readers, thanks to Little Learning Lovies.
And don't forget to snag the FreeBEE over at
Gricefully Homeschooling
as well!
Here is more about the
Little Learning Lovies
line of "Boxable" games. These are File Folder Games that come in TWO different versions within the same file, so you can construct them however you want to.
The first version is standard sized, so that you can put it in your own full letter sized file folder. The second version is smaller and comes with it's own printable folder that is coordinated to the game. Each version has game mats, pieces and an envelope for holding the pieces (which can be glued to the back of either sized folder).
They are called
Boxables
because there are also coordinated boxes that you can print on card stock and construct in about 20 minutes to hold 10 - 15 of our Boxable games! The boxes come out nice and sturdy and we have them in lots of themes (and more are added all the time!)
We will have another great FreeBEE next month on August 9th!