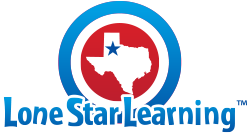 Lone Star Learning
produces quality teaching tools designed "by teachers, for teachers". They make a wide variety of products including flashcards, apps, digital products, posters and more which assist with teaching science, math and language arts. 100% of the Lone Star Learning products are printed and designed in the USA!!!
A moms review:
We had the opportunity to review the
Set 1 Science Vocabulary Cards
from Lone Star Learning. These 40, 5.5″ x 8.5″ full color, coated cardstock cards show the meaning of the word withing the words themselves utilizing really adorable pictures. This combination of color and pictures along with the word is known as
mnemonics
. What there's a special word for it? See even this homeschool mom learns a few new things from time to time.
Research shows that using mnemonics helps students make connections between the words and their meanings and that it is one of the most successful ways to aid in learning. And I must concur. I remember during my schooling days I used to come up with little rhymes or songs to remember things like dates, the presidents, states etc. Whenever I did this I could easily remember what I needed to. I never knew though that there was a term for it...now I do.
There are a total of 4 science card sets and they are not arranged by grade level. On the
Lone Star Learning website
there is a list of the words included in each set which makes it easy to determine which set will be appropriate for your child. Because we are a science heavy family I decided the science cards would be a good fit for us. These cards are strictly a supplement and can be with
ANY
homeschool science curriculum. There was a flyer that came with the cards that had some great ideas on ways to utilize them. They are great for literally all ages (I used them with my 5 and 7 year old). And they are great for all learning styles since the way you will utilize them will vary. We utilized these cards a few times a week.
Word List Set 1
blizzard

carnivore

Celsius

condensation

conductor

conglomerate

conifer

deciduous

evaporation

fall

fern

fibrous root

flood

friction

load – fulcrum

gear

gravity

herbivore

igneous

inclined plane

inherited

lever

magnetic

mammal

metamorphic

moss

permeable

precipitation

pulley

reptile

sedimentary

spring

stretch

summer

symmetry

taproot

turn

wedge

wheel
Click here for more Lone Star Learning
reviews from the
The Schoolhouse Review Crew
.
*Disclaimer - As part of the TOS Review Crew I received a set of the Science Vocab Cards in return for my honest review. Please note that prices indicated in the post are subject to change. I was not compensated for my review and all opinions are our own! Many of the links found on my side bars and in my blog posts are affiliate links. As a result, I might get paid money and I will most likely spend the money on homeschool supplies. I am disclosing this in accordance with the FTC Regulations.