I am sure you have heard of Apologia Educational Ministries...I think pretty much every homeschooler has considering they have a booth at just about EVERY homeschool convention. But have you ever looked through one of their amazing books? Apologia publishes K-12 Creation-based science curriculum, worldview curriculum for ages six to fourteen and practical and inspirational books about homeschooling. They also offer refreshing retreats for moms, and online classes through Apologia Academy.
A moms review:
I have personally met almost all of the Apologia family and they are all some of the nicest people you will ever meet. I have had the pleasure of hearing many of them speak at conventions/retreats. And Jeannie Fulbright the author of Swimming Creatures of the Fifth Day, which is the book we had the pleasure of reviewing for the Crew, happens to live only about 20 minutes away from us.
We owned the Land Animals and Flying Creatures Zoology books from Apologia and have used them since we began homeschooling...but this is the first official review I have done about one of the books in the Young Explorer Series. Since we were starting out the new year learning about Marine Mammals I asked to review Zoology 2 Swimming Creatures of the Fifth Day.
We absolutely love our other two Zoology books from Apologia and this one was no exception. The hardback book is loaded with fabulous information and contains beautiful images of sea creatures. It is designed for children in K-6th grade.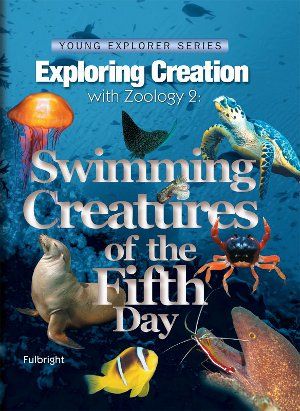 There are 223 pages and 13 lessons in the Creation based Swimming Creatures book. All creatures large and small who live in the rivers, streams and the vast oceans are covered. Even the dinosaurs are not left out. The book follows a
Charlotte
Mason,
immersion
approach.
In the front of the book is a step-by-step recommended guide for using the curriculum. And in the back of the book there are even answers to the narrative questions...perfect for us moms who don't know it all.
Genesis 1:21 "So God created the great creatures of the sea and every living and moving thing with which the water teems, according to their kinds, and every winged bird according to its kind. And God saw that it was good."

Lessons covered in Swimming Creatures:
-Aquatic Animals
-Whales
-Seals and Sea Cows
-Aquatic Herpes
-Primeval Reptiles
-Fish
-Sharks and Rays
-Crustaceans
-Mollusks
-Cephalopods
-Echinoderms
-Cindarians


Because of our eclectic learning style we generally use books like this as a resource and not a curriculum textbook. But for the purpose of this review we used it like it's intended to be used and started at the beginning of the book and worked our way through the lessons using the lesson plan in the Junior Notebooking Journal. We have completed about 2 1/2 lessons which went along wonderfully with our Marine Mammals unit study.
The nice thing about these books though is that they are very versatile and you can use them however they best suite your families needs whether it be a curriculum textbook that you utilize start to finish all year or just as a resource where you skip around
utilizing
what you need, when you need it.
Each lesson follows pretty much the same pattern:
-Several pages of text with "try this" experiments spaced throughout. Longer lessons may have a few experiments.
-A
"What do your remember?" wrap up where you will ask your children several discussion questions.
-Notebooking activities reminder. There is a also a recommended project for older students.
-Ideas for adding to your ocean box (photo below of what this is).
-Final experiment where children will fill out their scientific speculation sheet.
Our Apologia lessons took about 1 hr to complete and we did them 2-3 times a week. We followed the recommended schedule in the notebooking journal very closely. In between our text reading we would not only complete items in our journal but also watch various YouTube videos, here is a link to our Marine Mammals YouTube channel. The kids thought it was a lot of fun to actually hear the Whales sing their songs after we read about them. As a reward we would watch a video or documentary about Marine Mammals at the end of the day after we completed our homeschool day (Free Willy, Moby Dick, Big Miracle etc).
The kids both loved the science experiments. They learned so much from these short, simple experiments.
We even added some of our own like this
Baleen Experiment
to help reinforce what they learned about Baleen Whales. The experiments help reinforce not only what the children have learned but it also helps them become familiar with the scientific method.

Learning about echolocation, sound vibrations, freezing salt water and baleen.
Journals:
There are two journal options

Regular Notebooking Journal

(K - 3rd grade) and the

Junior Notebooking Journal (3rd - 6th grade)

. I highly recommend getting a journal. These journals make lesson planning super easy for the parent, help your child retain terms and subject matter from the lessons and create a beautiful record of your child's learning. We utilized the Junior Notebooking Journal which is geared towards children with

limited writing skills.

The writing

lines in the Junior Journal are primary writing lines (a dashed line between two solid lines). There are lots of spaces for drawing which my daughter was very excited about. We used one book and the children took turns doing activities. These are a great complement to the already wonderful textbook.

What's in the Junior Journal:
-A detailed schedule for parents to follow. This schedule uses a two day a week plan making it very flexible especially for the busy homeschool family.
-Coloring pages with scripture (I had the kids color while I read from the textbook). Even my anti-coloring son got involved and had fun.
-Various templates where children can draw and/or record the facts they have learned. If your children are young like mine they can dictate the various facts and you can write them down. However I will say that my daughter who dislikes writing was eager to write in the pretty notebook.
-Key vocab word activities which include puzzle piece cut out, vocabulary matching activity, crosswords, vocabulary stories, animal identification and more.
-Scripture copywork for handwriting practice (choose from print or cursive or both). The scriptures in the Junior Journal are shorter than Regular Journal and the font is larger. This is a great way to not only memorize scripture but also teach spelling, grammar and handwriting.
-Pages to record projects and experiments. My kids really enjoyed giving their hypothesis for the various experiments.
-Paste pages where children can display the beautiful, colorful lapbook mini books that they assemble.
-Book and DVD suggestions are provided after each lesson. These resources nicely complement your studies.
-More experiment and project ideas to Dive Deeper into each lesson.
-Field trip sheets where you can record your fun adventures. We were unable to make it to the GA Aquarium because all their homeschool classes were booked (and it's MUCH cheaper to do the classes and see the aquarium than it is to just buy regular tickets). But we did enjoy looking at all of our photos from our past adventures to the GA and TN Aquarium.

My children loved all of the activities. My daughter can write but dislikes to and my son doesn't write at all really. Imagine my surprise when my daughter was willing to write words and short sentences on the various templates. All the templates you need to create the notebooking assignments, projects,
miniature
books etc are found in the Junior Journal. There is no need to have additional supplemental worksheets, books, etc...unless of course you want to.

To
determine
which journal your child needs ask your self this question, "Does my child feel comfortable writing paragraphs?" If not the Junior Journal is the way to go!
Additional supplies?
Throughout the book there are various experiments which do require additional supplies. So far there has been nothing extra I needed to purchase. Before getting started you can view this great lab pdf which lists all the supplies you will need for this
curriculum
.
So what about that lesson plan?
The lesson plan is amazing and has everything laid out for you to complete over 26 weeks. Because the lesson plan only requires 2 days a week it makes it a very easy curriculum for busy homeschool families to utilize. One entire lessons takes about 2 weeks (4 days to complete). Because my children are both young (5 1/2 and 7) we did have to split up some of the lessons on days they had short attention spans.
FREE stuff:
-Zoology 2 Journal Sample
-Zoology 2 Junior Journal Sample
-Zoology 2 Sample
-Zoology 2 Table of Contents
Wrap up:
I highly recommend this curriculum. It is great for all learning styles and ages. It is a versatile curriculum that can easily be adapted to suit every homeschooling families needs. And most importantly it is FUN! Children will learn, be engaged and ask for more!!!!
Gwyns review (7 yrs old):
I really liked the science experiments and ocean box. We got to take shoe boxes and make them into oceans. We even added real sea shells.
Click here for more Apologia
reviews from the
The Schoolhouse Review Crew
.
*Disclaimer - As part of the TOS Review Crew I received the Swimming Creatures of the 5th textbook and Jr. Notebooking Journal in return for my honest review. Please note that prices indicated in the post are subject to change. I was not compensated for my review and all opinions are our own! Many of the links found on my side bars and in my blog posts are affiliate links. As a result, I might get paid money and I will most likely spend the money on homeschool supplies.