Jen, from
Gricefully Homeschooling
,
and I team up, every Friday, to bring you a list of
free
bees...on both of our blogs.

PLUS...with the added bonus of this being a weekly link up...where you can showcase your freebies, things you've found online, and also, things you've received in the mail, totally FREE in the last week...or so.

FreeBEEs: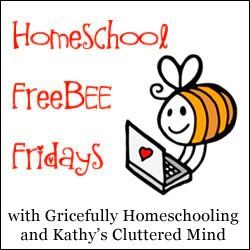 If you have homeschool FreeBEEs to share
please link up at the bottom of this post!
You can copy the button from my right side bar.

FreeBEEs:
Last year we did
Truth In The Tinsel
to celebrate the Advent and we took some time to learn about the different holidays celebrated throughout December. I loved
Truth In The Tinsel
. It was lots of fun and it was a great way to teach the kids the real meaning of Christmas. This year though I wanted to do something little different. You know mix it up. Things have been sort of stressful around here the last few months so we are taking December easy, regrouping, having fun and spending lots of quality time together. We will still be learning of course...ALL about Christmas!
This is our handmade advent calendar.
Here some of our plans for December 2012:
-Celebrate the Advent
-Read a Christmas book each day (we will probably read more than one)
-Make ornaments for the tree
-Do something nice for others
-Learn about Christmas around the World
-Make some goodies
-Visit Bethlehem
-Go Caroling
What is on your agenda for December? If you still need ideas check out the many FREE resources listed below. And if you want to follow us on our December learning journey we will be using hashtag
#christmasunitstudy
on Twitter and Instagram.
Advents and Countdowns:
-Stef Layton shares a great post on "
Preparing for Advent
"
-
The Activity Mom
shares printable Advent activity cards and links to ideas as well as a great idea for kids who enjoy Legos -
Lego Christmas Countdown
-
Silent Night copywork printable
from Adventurez in Child'Rearing
-
Living Montessori Now
has a great list of countdown activities
-Calendar connections cards
Christmas Around The World
and also
Jesse Tree
by 1+1+1=1 - these are fabulous
-
Thriving Family
Advent activity calendar - I actually get their magazine so I received the actual booklet it is wonderful
-Great
Advent calendar idea
-Jesse Tree
devotional ebook
with craft ideas, songs, prayers and more
-
Confessions of a Homeschooler
has some great printable ornaments and ideas
-
Jesse Tree Advent
devotional and printable ornament eBook (must sign up with your email)
-
25 days of Christmas songs printable
- sounds like a fun Advent idea
-
Adventures in Mommydom
has a great list of Advent ideas
-Free Grapevine
Announcement to Mary
eBook lesson thanks to The Pelsers
Other Fun Christmas Resources:
-
Mamas Learning Corner
has loads links to various Christmas printables
-
Homeschoolin' Mama
shares lots of great Elf on the Shelf links
-
Symbols of Christmas Lapbook
from In The Hands of a Child
-
Living Life Intentionally
has over 155+ Christmas crafts, activities, treats and more to share with you
-Living Life Intentionally
Christmas Around The World
- this is one of the things we are definitely doing
-
Christmas writing prompts and notebooking pages
from Blessed Beyond a Doubt
-FREE
personalized letter from Santa
Android Advent Apps:
Yup there's apps for Advents!
-
2012 Advent calendar
- decorate a Christmas tree with an ornament each day
-
Advent candle widget
- light virtual candles
-
The Elf Advent-ure Calendar
-
Christmas Calendar 2012
Kindle Christmas Books:
-
Suzy Snowflake
- FREE Prime
-
Baby Saves Christmas
-
Elle the Elf
- FREE Prime
-
One Little Christmas Tree
- FREE Prime
-
The Children's Book of Christmas Stories
-
Jason, Lizzy and the Snowman Village
-
Little Nemo's Wild Sleigh Ride
-
Christmas Beyond the Box
-
The Carpenter Who Saved Christmas
-
Christmas in Legend and Story
- 40 stories from the Bible and well know authors
-
Christmas Songbook
There are many more great FREE Christmas resources available I wish I could share them all but I just can't. If you cannot find what you need listed here just do an internet search and I am sure you will find it.
You can also check out my
Advent
or
Christmas
Pinterest Boards I will be adding to them throughout the month.
I hope you find these resources useful. If you ever have any questions feel free to leave me a comment or email me. Also be sure to follow my
FB page
where I post FreeBEEs daily.
Link up:
FreeBEE Fridays
with
Kathy's Cluttered Mind
and
Gricefully Homeschooling



Remember when it comes to FREE resources the internet and a good search engine are your best friend.
*Disclaimer - Many of the links found on my side bars and in my blog posts are affiliate links. Please note that prices indicated in the post are subject to change. As a result, I might get paid money and I will most likely spend the money on homeschool supplies.
Linking up with
3 Boys and a Dog