Welcome to the Seussy Saturday Link Up. As you may know we are going crazy with Dr. Seuss this month for our homeschool unit. We will be reading EVERY single one of his books and doing worksheets, lapbooks, crafts, fun food and more. I know there are a bunch of link ups going on for Dr. Seuss but this one will be a little different because it will last all month. So if you are having a Seusstactular time with Dr. Seuss this month be sure to link up.
Below is the button if you want to join in the fun. Just link up a post that has to do with Dr. Seuss. And I would love it if you put the button either in the post or on your sidebar if your participating.
So here is what A Week In Life Of A Seussy Homeschool looks like.
Saturday night the kids arrived home from their sleepover to find their Leprechaun traps empty. They didn't catch that sneaky little guy this year but he did leave them each 3 chocolate gold coins. Sunday we had fun with our Spring craft and made some cute butterflys. If you haven't seen my National Craft Month With Rose Art post be sure to check it out here.
Monday we had a super busy day. First Gwyn had American Girl club with our homeschool group where she made another woven place mat which went along great with the 1st Kaya book. Then we headed to Rowyn's speech appointment. Afterwards we ran to the library to return some books and get our books for our April unit study which will be on South America, Chimpanzees and other primates. Then it was for some Seussy fun. We read Oh say can you seed and The Bippolo Seed and other stories. And then we planted our balcony gardens. We also examined some carpenter bees and discussed pollen (which is coating all of GA right now, my green car has turned yellow). And then Gwyn had her first official soccer practice.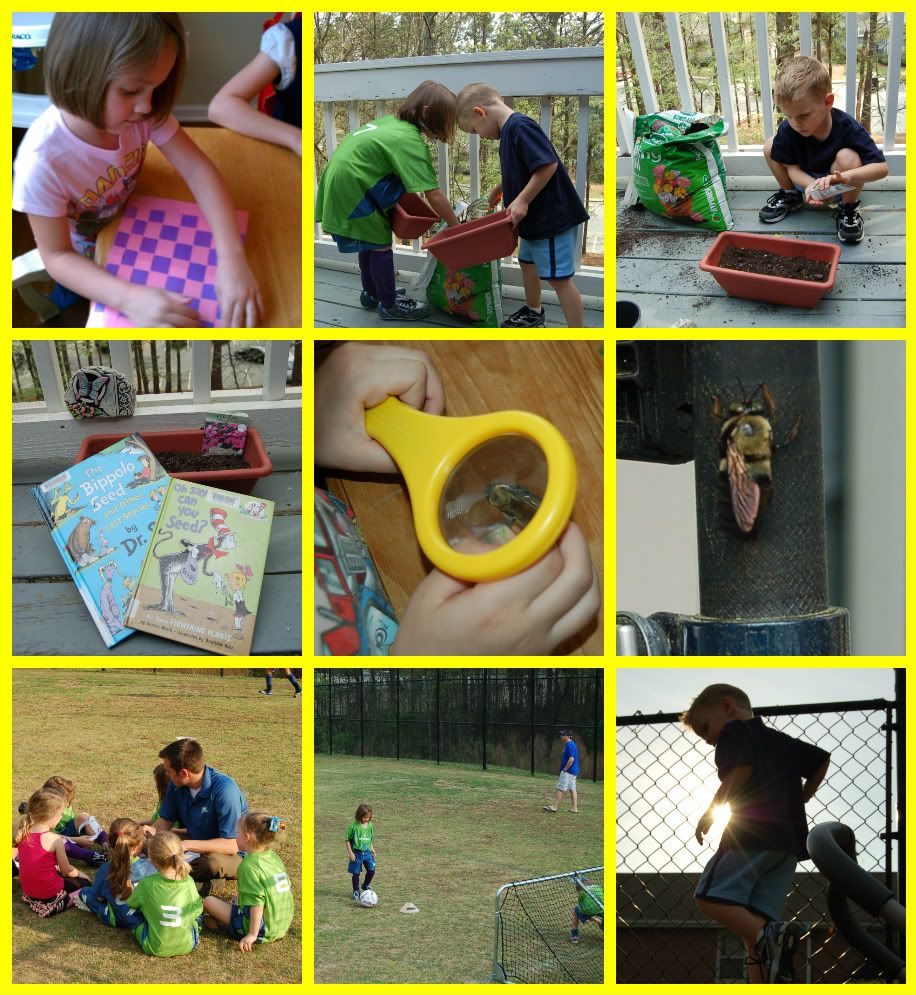 Tuesday we celebrated Spring. We did a first day of Spring nature study. Discussed carpenter bees again (they are surrounding our front porch and balcony). Then the kids made their lunches, peanut butter and jelly their favorite. Afterwards we headed to
Old Roswell Mill
with the
Adventurez in Child Rearing
family. Even though we live about 2-3 miles from this wonderful place we have never been there. But after spending over 5 hrs there I can tell you we will be going back a lot more. This place is amazing. We covered History, Science, PE, Art, Phonics, Math and more on this one field trip.
Wednesday was an errand day with daddy but we did manage to sneak in a field trip at Petco. We played Mouse Trap and the kids did some Read Eggs (I cannot wait to share our review about this program with you). The kids also watched some quality educational shows on the Roku......The 3 Stooges. Rowyn helped me make our meatball sandwich dinner and bake a loaf of Tastefully Simple Beer Bread. Each kid also made their snack which went along great with the Dr Seuss Tooth book.
Thursday we hung out with the homeschool group and went to a great place in Acworth GA called
DACKids
. This facility has a pirate theme and features wooden forts, a large sand pit, compressed air cannons that shoot foam balls, inflatables, playhouses and slides. The staff is very nice and the facility was very clean. Unlike so many play centers DACKids has a great security procedure in place as well. The adult who registers with the child/children on arrival MUST be present upon departing; and must show their corresponding security wristbands. I also loved how inexpensive it was. We got a great deal through Groupon and got a 5 session pass for $18! Their normal fees are $7.99 per child and $4.99 for two and under. Afterwards we went to Chilis for lunch there were 5 homeschool moms and 18 kids. We were out numbered...but you would have been amazed at well behaved the 17 kids under the age of 12 were...I know we were. They were so polite, sat in their chairs, ate their food and talked among themselves. Gwyn even made a new friend.
Friday I drove the kids to Mommom's (aka Grandma's) for their sleepover. And I headed to Apologia Live (more to come on that in another blog post).
I hope you had a great month learning with Dr. Seuss. I will not be doing a link up this Saturday but we are still working on some Dr. Seuss activities and finishing up the books this week. I really didn't get in as many crafts and activities as I wanted too because of attending a convention and retreat this month....but we did have lots of fun with Dr. Seuss and the kids learned a lot about imagination, adjectives and rhyming.
YouTube Channel for March:
Pinterest Board for Dr. Seuss I also have one March - I would love it if you follow me:

Link Up:
Thanks for stopping by and linking up.