Well both my
FreeBEE Friday
and
Seussy Saturday
posts are being put up late this week because I was having fun with my blogger friends at the Teach Them Diligently convention in South Carolina on Thursday, Friday and Saturday. Don't worry I will be sharing more about the Convention this week. So I am combining them both in this post along with our week in the life of homeschoolers.
So here is what our week in the life of homeschoolers looked like. We actually didn't get any Dr. Seuss activities done because we only had 3 days to do homeschool and we were busy running errands and squeezing in a field trip during those three days. So here is what we managed to get done.
Sunday we made a cute St. Patricks Day craft if you missed it check it out
here
. Monday Rowyn had speech therapy, which is still going very well. Afterwards we all got hair cuts and then Gwyn had her first soccer practice. But due to the rain it ended up just being a team orientation. She was so bummed so after she met her coach and team mates I took Gwyn and Rowyn to the field and we kicked the ball around in the rain. Tuesday we went to
Tellus Museum
with some of our homeschool group friends. If you live in GA and have never visited the museum you must do so or if you ever visit GA add it to your list of must do activities. The gem panning and fossil digging are always a BIG hit. Afterwards we went to the grocery store. On Wednesday we made our posters for Legoland with some homeschool group friends. Afterwards we went to visit my parents and pick up the van I was using to drive to South Carolina. Then I dropped the kids off at my friends house. She was kind enough to watch them for the 3 days I was gone so that they would be able to experience an awesome adventure on Friday. The kids were very excited to have a sleepover with their friends. Later that night I finally got to meet my wonderful online friend Kelli from
Adventurez in Child Rearing
. On Friday the kids along with 200 other homeschooled kids got to attend the ribbon cutting ceremony for the NEW
Legoland at Phipps Plaza in Atlanta
. They couldn't wait to tell me all about and thankfully some of my wonderful friends took pictures for me. Saturday they went to the Big Machine Festival with their friends. I don't have any pictures yet to share but they had a blast. They got to play in an ambulance, bulldozer and firetruck. And Gwyn was thrilled that she got to pet a police horse.
YouTube Channel for March:

Pintrest Board for Dr. Seuss I also have one March - I would love it if you follow me:
Welcome to the Seussy Saturday Link Up. As you may know we are going crazy with Dr. Seuss this monh for our homeschool unit. We will be reading EVERY single one of his books and doing worksheets, lapbooks, crafts, fun food and more. I know there are a bunch of link ups going on for Dr. Seuss but this one will be a little different because it will last all month. So if you are having a Seusstactular time with Dr. Seuss this month be sure to link up.
Below is the button if you want to join in the fun. Just link up a post that has to do with Dr. Seuss. And I would love it if you put the button either in the post or on your sidebar if your participating.
FreeBEEs: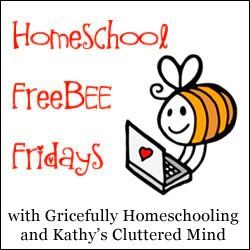 If you have homeschool FreeBEEs to share
please link up at the bottom of this post!
You can copy the button from my right side bar.

Internet FreeBEEs:
-Order Free Medical DVDs and posters from the
Howard Hughes Medical Institute
-Free
writing prompts
FreeBEES from some of the vendors that were at Teach Them Diligently:
-
Seeds Family Worship
FREE downloads
-
A + Tutorsoft Math Curriculum
see bottom left for FreeBEEs
-
Math U See
e-sources
-
Nancy Larson Science
student resources
-
7 Sisters e-book store
there are several FreeBEEs
Sign up FreeBEEs, items I will be reviewing soon and items I won:
This is the stuff I got at the Teach Them Diligently Convention. Some of it I received from vendors to review, some of it I purchased and some of it is stuff that the vendors were just handing out.
I hope you find these resources useful. If you ever have any questions feel free to leave me a comment or email me. Also be sure to follow my
FB page
where I post FreeBEEs daily.
FreeBEE Friday Link up:
FreeBEE Fridays
with
Kathy's Cluttered Mind
and
Gricefully Homeschooling
Seussy Saturday Link Up:
*Disclaimer - Many of the links found on my side bars and in my blog posts are affiliate links. As a result, I might get paid money and I will most likely spend the money on homeschool supplies!