Week 28:
What a wonderful busy week we had. Monday we went to the first American Girl club meeting at our homeschool group. Where the girls had fun playing with their dolls and making friendship bracelets. We will be reading Kya for our homeschool group club. Then we went to the library for story time and to check out two dozen books or so. Tuesday we learned about lions, Africa, nickels, patterns and the letter F. Wednesday we went bowling and yes bowling can be very educational (FREE resource below). It also takes care of PE. The best part though was that daddy got to go with us because his work schedule has changed. Afterwards we read about big cats, watched a few videos about lions and Africa on
Discovery Education
. (if your in GA read below on how you can get FREE access). We also got some reading done with
Reading Eggs
(see below for 4 wk trial code). Thursday we had a play date with a friend....but we did manage to squeeze in some homeschool in the car and at the Drs office while waiting for my friend to get her staples removed. And tomorrow we plan to continue our Africa/lion unit and make our Valentines.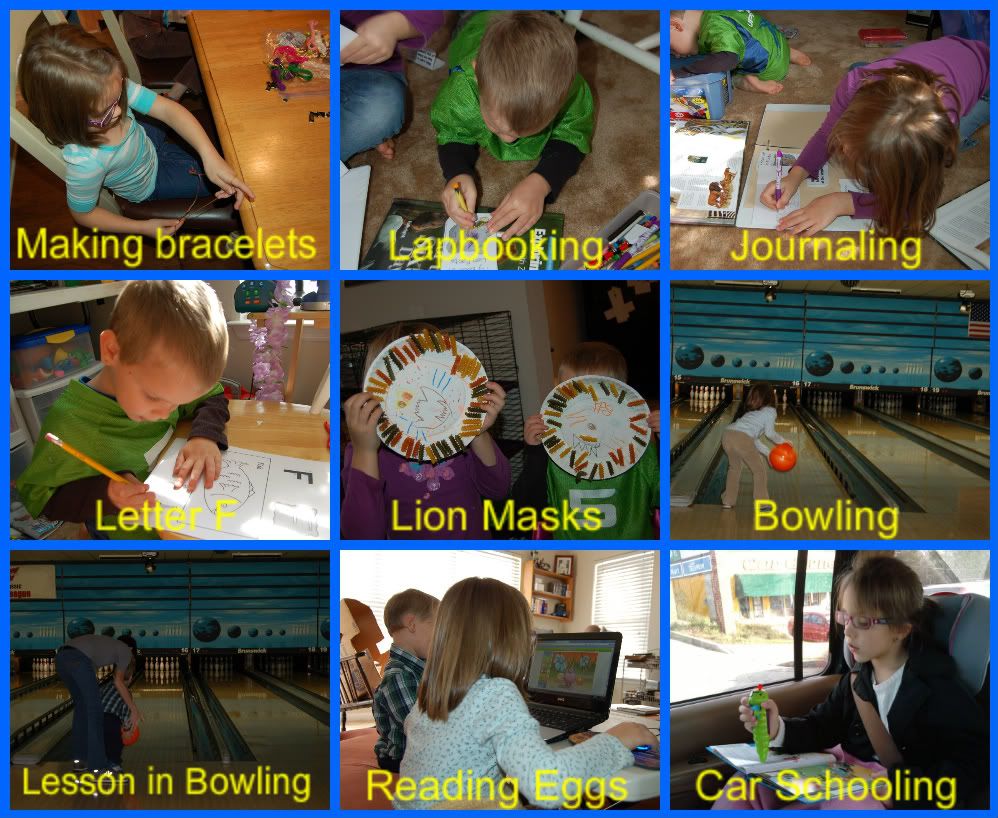 Aren't the lion masks adorable. We normally get more crafts done every week but we were pretty busy and this is all we got done so far. They are so simple to make. Just get a paper plate and have the kids draw lion faces on them. After that glue spiral noodles around the outside for the mane. If you want you can tie a string onto both sides so the kids can put it around their heads that way they don't have to hold it. My kids had a great time chasing each other around and roaring like lions.
Linking up at Three Thinking Mothers for Look What We Did
FreeBEEs:

If you have homeschool FreeBEEs to share
please link up at the bottom of this post!
You can copy the button from my right side bar.
Internet FreeBEEs:
-Discover Education video streaming -
read here
on how to get FREE access
-
Reading Eggs
- 2 week Free trial or use code
here
for 5 week trial - HURRY though not sure when it expires
-Bowling educational
lesson plans
-
Speaking of speech
- Recommended by Rowyns speech teacher some great Free printables and tips and ideas on the forum
-
1+1+ 1=1
- Kindergarten with Krash - some really great FREE
kindergarten reading packets
-Masterbooks -
Free printables
to go along with many of their books
-
Six Flags Read to Succeed
- FREE tickets for reading must register and input childrens information by March 1st, reading list need to be mailed by March 9th.
-
Presidentional Fitness Award
available for homeschoolers too
-Youtube
Lab of Ornithology's Channel
- very cool nature videos - my friend at
Adventurz in Child Rearing
recommended this
-Currclick P
residents Day Holiday Helper
and
FREE online clubs
-Virtue online books, mp3 -
Hartlie.com
-Kids online browser -
Kidzui.com
-
PBS learning media
-
NatGeo kids
- Gwyn can seriously spend hours on here
-National Geographic
Field Test Assignment
- very amazing you must check out these photos of endangered animals
-Living Life Intentionally - another great blogger with amazing
printables
-
Highlights.com
- printable mazes, hidden pictures and more
FreeBEE events:
-
Lowes kids workshops
Sat. February 11th Valentine card creator and Sat. February 25th race car. my kids love these workshops.
-
Michaels Knack
- check out the events list each month there are lots of great crafts. Some are FREE some cost a few dollars.
-
Lego stores
-
Each month they offer a FREE mini model build
-
this months opportunity has past but keep checking the website to find out what next month will be.
Sign up FreeBEEs, items I will be reviewing soon and items I won:

)
The Kindle I won on the PBS Learning Media Twitter part
y
(actually going to sell it to get an Android for the kids. If you want a good deal on a Kindle Touch email me)
3) Elmo bag from PBS
4)
Soundbites from Heaven won this on a Facebook party and will be giving it away to a friend for
international book giving day


Books and DVDs we checked out from the library:
-DVD Mammals Eyewitness - I love the Eyewitness stuff
-The Lion Who Saw Himself in the Water - by Idries Shah
-Four Fish - Phonics book by Wonder Books
-In like a lion out like a lamb - by Marion Dan Bauer
-Big Cats - by Dorothy Hinshaw Patent
-Great beginner reading books - Bugs on the Bus and Where is my Frog - by Paul Orshoski - highly recommend for young readers
-Another great beginner reading series- Jon Scieszka's Trucktown
-Punk Farm - by Jarrett J Krosoczka
-Kenya in Colors - by Sara Louise Kras
-One Zillion Valentines - by Frank Modell
-The Best Beekeeper of Lalibela - A Tale From Africa - by Cristina Kessler
-
New ideas have been added to my board. These are some of the things we are doing for our January units. Check out my other boards on Pinterest for ABC, 123, Art, etc ideas.
This is our February YouTube playlist keep checking back because I will be adding videos each week. It includes the various videos we will be using throughout February.
I hope you find these resources useful. If you ever have any questions feel free to leave me a comment or email me. Also be sure to follow my
FB page
where I post FreeBEEs daily.


*Disclaimer - Many of the links found on my side bars and in my blog posts are affiliate links. As a result, I might get paid money and I will most likely spend the money on homeschool supplies.