The last three days were filled with fun fieldtrips, crafts and learning to celebrate Valentines Day. Mommy and Daddy even got to go on a much needed lunch date today. So grateful for homeschool friends who are willing to help you out and watch your kids for you in the middle of the day.
So here are some pictures of the things we did the last three days!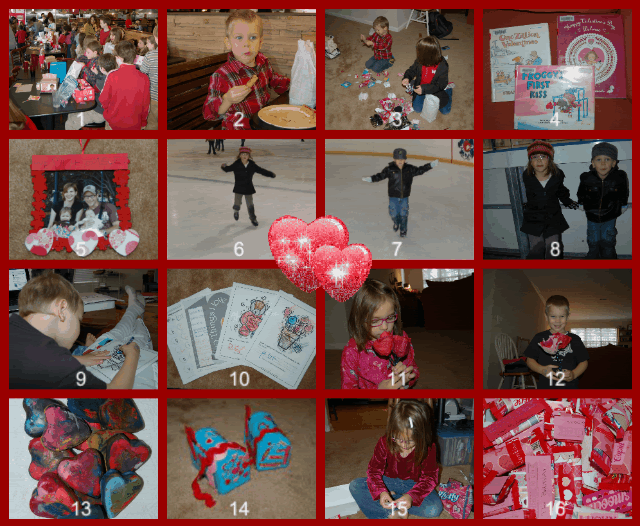 1-2) Our homeschool group invaded Stevi B's pizza on monday. There were about 40 homeschool kids that exchanged Valentines.
3) Checking out the Valentines they received from their friends.
4) Books we read.
5) Picture frame the kids made daddy. We made a square with popsicle sticks and then glued puzzle pieces to it. Then Gwyn wrote "I love you to Pieces" on a piece of paper which we glued to the top. We glued a few hearts to the bottom and added a family photo. Daddy hung it up in his cubical at work.
6-8) On Tuesday we went ice skating. It was the kids very first time and they had a blast. I was so very proud of how hard they tried and how quickly they learned.
9-10) Valentines worksheets and coloring.
11-12) The kids made tissue paper roses for daddy. They are super easy all you need to do is take a stack of tissue paper (whatever colors you want), scrunch in the center and wrap a pipe cleaner around the tissue paper. Then fold up the tissue paper a layer at a time. Here are some directions on
youtube
even though we improvised a bit because the kids couldn't do an accordion fold.
13) Heart shaped crayons. We used a mold we got at Dollar Tree, put some broken crayons in the molds, placed in the oven at 275 degrees for about 10 minutes and presto fun crayons.
14) We got these little tin mailboxes at Target int he 1$ section. I gave the kids some ribbon and stickers and they went to town.
15) Making cards for daddy.
16) The Valentines we made for our homeschool friends. We wrapped scrapbook paper around Laffy Taffy, decorated them with stickers, and
And on Valentines Day daddy brought home Valentines cupcakes for the kids and beautiful roses and a card for me!
I am linking up with: