Well we just finished week 23 of homeschool. I know I missed three weeks of updates but we had a lot going on with the holidays and I wasn't finding much time to write blog posts. Yup we homeschooled through the entire month of December. We did take some full days off here and there but there was still plenty of learning taking place in between. Here is what we were doing during those three weeks of skipped posts. Learned about Christmas and the REAL reason we celebrate it with our Truth in the Tinsel Advent. We learned about Bethlehem, Israel, Hanukkah, Kwanza, New Years and Chinese New Year. We made crafts LOTS of crafts, cards, gingerbread houses/stables and trains at Lowes, We went to the playground, we played games and we read. We went caroling at a nursing home. We snuggled, watched movies and ate popcorn. We went on a Polar Explorer Express trip and saw some Christmas light displays. We spent time with family and friends. I hope everyone had a wonderful and safe Christmas and New Year.
So this past week we entered into week 23 of our homeschooling adventure. I didn't like totally having our days unplanned and couldn't quite do the 100% unschooling method. I have several reasons but don't really want to get into them, it just doesn't work for us yet. So I have come to the conclusion that our "method" is gentle/guided learning. So I asked the kids what they wanted to learn about. Gwyn said she wanted to learn to read and tie her shoes. She also wanted to learn about animals more. Rowyn well he just goes along with whatever his sister says for the most part, you know monkey see monkey do. So I sort of started planning again (still not planning like I want to but that is going to change this Summer). The kids choose the order of the things we do each day. If they get frustrated with something we move on. So far this has been working very well for us.
I am also changing up my posts a little. I will now be sharing a collage of our week instead of individual pictures, I will also be sharing various ideas and freebies we are using for the month.
Week 23:
Well we had a wonderful week despite me being under the weather. For January the kids chose Penguins as the animal of the month. Well what goes along well with Penguins? Antarctica, winter, snow and ice of course. So that pretty much covers Geography, History, Science right there. Gwyn started reading Bob Books and I am very proud to say she can read 4 of the books from level 1 all on her own. For math she has been working on graphing. And she's mastered tying her shoes. Rowyn learned to write his name and worked on recognizing his numbers and learning the letter D. Gwyn and I are also reading Felicity Learns a Lesson for her American Girl Club which is offered for FREE though
CurrClick
each month. Next week I will share more Bob Books resources with you.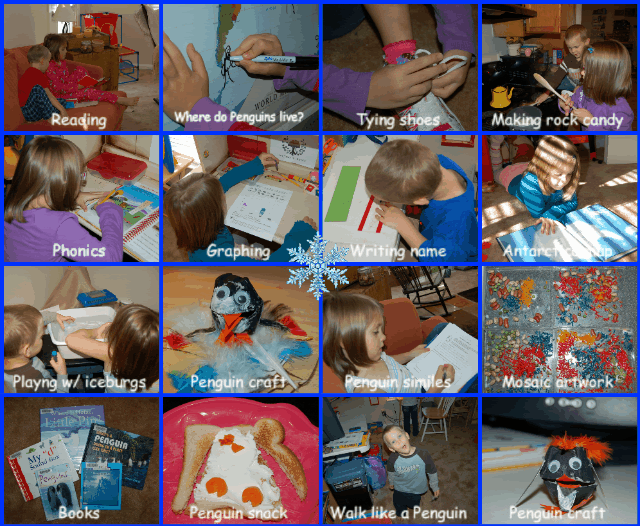 FREE Resources for Penguin, Antarctica, Winter, Snow Unit Study:
-
Penguin Printable Unit Study and Interactive Unit from Simple Homeschool
- download quickly its only available through 1/23/12, also with the Interactive Unit Study if you bookmark it on your computer you should be able to view it after the 23rd its worked for me in the past.
-
How to make fake snow
- we haven't done this yet but we will be
-
KidZone
- Penguin Facts
-
Ustream Penguins
- Live streaming from an Aquarium
-
Make your own Iceburg
- we did this and the kids had a blast
-Free
Penguin Lapbook
-Penguin
Coloring Pages, Dot to Dots, Color by Number
Books and DVDs we checked out from the library (most of them we have read and watched already):
-
Arctic and Antarctic
by Eye Wonder
-
What's a Penguin doing in a place like this?
by Miriam Schlein
-
Emperor Penguins
by Elaine Landau
-
Antarctic Ice
by Norbert Wu
-
Emperor Penguins Up Close
- by Carmen Bredeson
-
Penguins
by Susanna Davidson - great for little ones
-Antarctica by Alan Fowler - Read About Geography - great for little ones
-
Where Is Home Little Pip
- by Karma Wilson and Jane Chapman - a very cute little story about home being where your family is
-
DVD Nature Penguins
-
DVD Arctic and Antarctic
- by Eye Witness - we love Eye Witness videos
These are some of the things we are doing for our January unit. Check out my other boards on Pinterest for ABC, 123, Art, etc ideas.
This is our January YouTube playlist. It includes the various videos we will be using throughout January.
So what style of learning do you use and what are you learning about right now in your homeschool?
Thanks for stopping by.
*Disclaimer - Many of the links found on my side bars and in my blog posts are affiliate links. As a result, I might get paid money and I will most likely spend the money on homeschool supplies.